Meet the Board
Jonathan Broome BSc (Hons) MRICS

Jonathan Broome is a member of Cuckfield Baptist Church where he is an elder. He joined the Council in 1996 and his particular responsibility is sourcing property valuation advice. Jonathan is on the executive board of a firm of Chartered Surveyors where he is responsible for the UK transactions team and for the firm's group property interests. He continues to advise companies and various Christian charities on property matters throughout the UK. He is married to Rachel and they have two grown up children and a cocker spaniel. They enjoy skiing and various watersports.
Peter Canty CEng MCIBSE CMIOSH

Peter Canty has been a member of Peel Street Baptist Church, Accrington since moving into Lancashire in 1983 and he serves as a deacon to the church. By profession he is a chartered engineer & health & safety professional. Peter is currently a director in a consulting practice specialising in FM compliance to statutory standards, health, safety & risk and related software. Peter is married to Norma and has three adult children and three grandchildren.
Alan Copeman FRICS

Alan Copeman FRICS is a member of Pains Hill Chapel, Oxted. He first joined the Council in 1983 and has served as Deputy Chairman and Chairman. Married to Jackie they have two adult children. By profession he is a chartered surveyor. He is also committed to the work of Pilgrims' Friend Society where he is currently Chairman of the General Board. He enjoys horse riding and gardening
Andrew Keen LL.B

Andrew Keen is a member of Whittlesey Baptist Church, Cambridgeshire and is secretary of the local association of Grace Baptist Churches. He is a solicitor specialising in criminal defence law. He sits as a part-time Mental Health Review Tribunal Judge and, until recently, was a member of the Parole Board. He has three sons. He joined the Council in 1999.
Simon Partington BA(Hons) Dipl Arch RIBA

Simon Partington is a deacon and secretary of Grace Baptist Church, Halifax, where he is also involved in the work amongst the youth. He was converted at a Christian Camp in 1988 and this was followed by a period of study in Leicester. By profession he is a Chartered Architect working in the public sector in Huddersfield. He enjoys playing badminton and following his favourite football team, as well as travelling.
Robert Powell ACII

Robert Powell was converted as teenager from a non-church background. He is an elder and secretary of Jubilee Baptist Church, Occold, where he also preaches and assists with the youth work. Robert is qualified as a Chartered Insurer, and works as a claims manager for a national insurance firm, running a large department. Robert is married to Paula and they have one son, Ethan. Robert enjoys reading, especially PG Wodehouse, has an eclectic taste in music (for which he blames John Peel) and has recently started archery lessons - future Council Meetings should be interesting!
Paul Relf FCA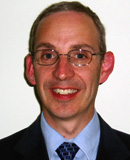 Paul Relf has for many years worked as a partner in a small firm of Chartered Accountants in London where he dealt with several charities as well as other clients. In June 2006, after a number of years as an itinerant minister, he accepted the call to be full time pastor of Enon Baptist Church in Chatham in Kent. He is married to Bridget and they have four children and two grandchildren.
John Risbridger MA
John Risbridger is an Elder Emeritus of Bethel Baptist Church, Upper Hale near Farnham. In a professional capacity he is a consultant in a firm of solicitors and advises the Corporation in legal matters. He was first elected to the Council in 1979. He enjoys reading and walking in the country.
David Skull FRICS MFB

David Skull is a deacon of Zion Baptist Church, Trowbridge. By profession he is a Chartered Quantity Surveyor though now retired. He joined the Council in 1994 so that he might represent the interests of the West Country churches in particular. He is Treasurer of the Corporation. He and his wife have lived in Trowbridge since 1957 and have three adult children and one grandchild. His main hobbies are gardening, and making and editing videos.
David Steere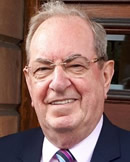 David Steere was converted at FOY Houseparty in 1959 and trained in the accountancy profession. He was called to the ministry in 1964 and was pastor of Providence, Knaphill, from 1966 to 1975. In January 1976 he took up the pastorate at Fressingfield which he relinquished in April 2010. He now serves the Lord in ministry among the Churches. He has served on the Council since 1972 and represents the interests of the churches in East Anglia. He is married to Joyce and they have two daughters and three grandchildren.
Kevin Wiltshire ACSI FPCS MIoD Cert PFS PFA

Kevin Wiltshire is a businessman with various business interests and he is head of an independent Financial Planning, Investment and Taxation practice, which he started in 1986. A change of career from Civil Engineering led him into the world of finance in 1984. He joined the Council in 2002 and was appointed Chairman in 2009, having previously served as Deputy Chairman. He also serves as a Non-Executive Director on a number of boards, is Chairman to the Governors of an independent Christian School and an elder in his local church. Kevin lives in Wiltshire, is married to Miriam and has three adult children and two grandchildren.