PEEL STREET BAPTIST CHURCH, ACCRINGTON
The Peel Street chapel design is unusual, having a number of steps and stairs to the main levels. This makes accessibility challenging for the elderly and those with physical difficulties. The church felt that these issues would be best addressed by the installation of a lift accessible from the exterior of the building. However, their initial plans met with some opposition from the local council, and they had to modify their building project several times before final approval. The church are now very pleased with a fully internal lift. In addition, alterations were made to the entrance steps, which decreased the height of the risers. Furthermore there is leeway for an exterior ramp to be added to the side of the new steps at some later date if it is thought necessary.
Chapel entrance: before and after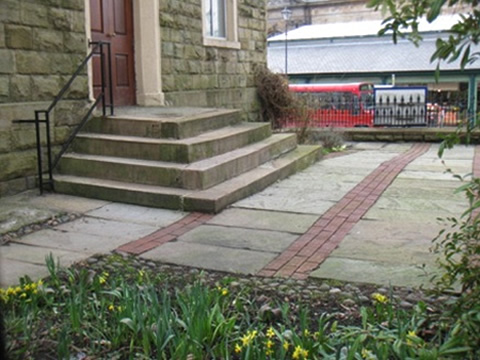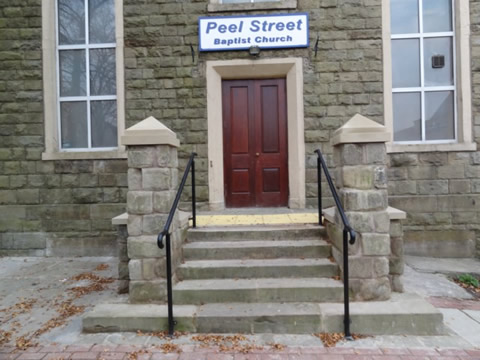 A church member writes:

"Thank you so much for enabling me and many others that attend Peel St Baptist church. For many years it has been difficult for many of us to access the church from the front. Now that the building has an upgrade to the front including dropping the step height and adding handrails and non-slip surfacing many of our elderly members find it a great deal easier to access the church.
As for the new lift installation, it is superb. It is clean and safe, suitable for a person and a wheelchair, or for four adults up to 500 kg in weight. It makes such a difference to the blind group, both able bodied and disabled. Please pass on my thanks for making my day in church less difficult due to the kindness of all concerned. In providing the funds for this project you have done good! Thank you!"
Front steps improved by increasing the number and so decreasing the height of the risers.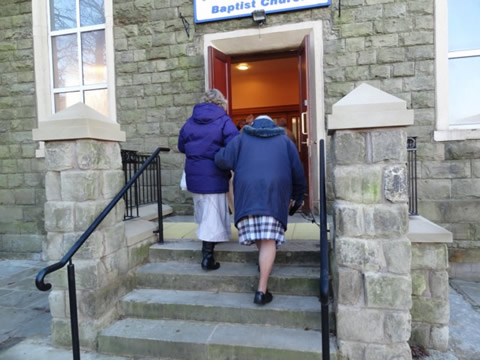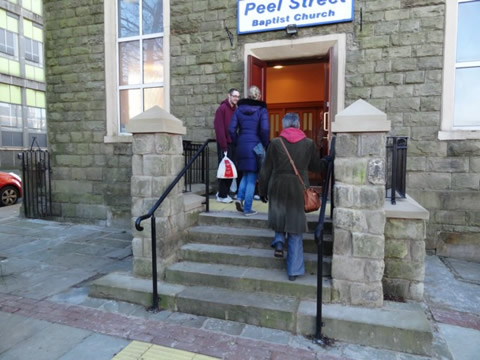 New Lift - Downstairs & Upstairs