PROVIDENCE CHAPEL & CHRISTIAN HERITAGE CENTRE AT ROWLEY REGIS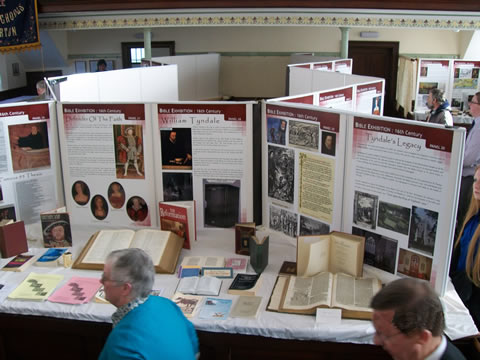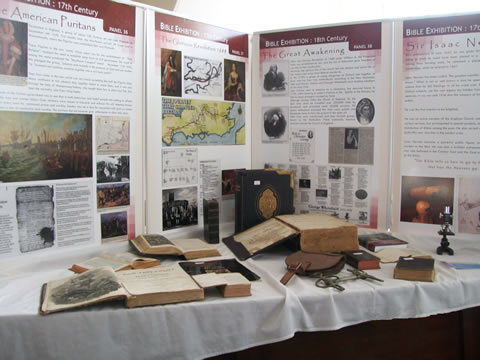 For some years now, the small yet faithful church at Providence Chapel, Rowley Regis has met at the rear of the premises. The main chapel area was in considerable need of restoration, in particular the plasterwork and ceiling, but this was beyond the finances and capabilities of the congregation. A solution came in the form of the Christian Heritage Trust who were in need of a suitable space in which to display the Bible Exhibition formerly owned by "Our Inheritance Bible Ministries".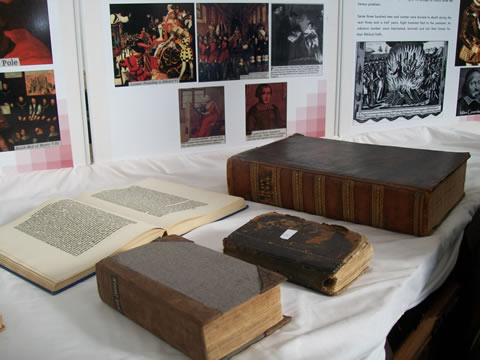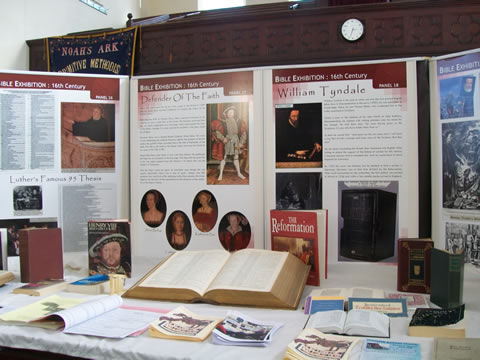 The Grace Baptist Trust Corporation was pleased to be of assistance in facilitating an arrangement between the church and the Christian Heritage Trust whereby the latter rents the main sanctuary to display the Bible Exhibition, and covers the repairs and renovations as part of a 20 year lease.
Mr Roland Burrows of the Christian Heritage Trust writes: "The Christian Heritage Centre was formally opened on the 3rd March 2012. It is housed in the large sanctuary area of Providence Chapel, Rowley Regis, Birmingham. Through co-operation with the Grace Baptist Trust Corporation, and the present congregation of the Chapel who for many years have been using the Sunday School room at the rear of the premises for their services, the following agreement has been made: much needed renovation work, especially to the ceiling and plasterwork in the Chapel area has been carried out by the Christian Heritage Trust, to a cost of just over £20,000. This in effect, under the terms of the agreement, has become payment for a 20 year lease on the premises. The beauty of this arrangement is that the ongoing work of the church at Rowley has been secured, an important landmark building has been preserved and we believe put to a very significant local and (being situated in the heart of the country adjacent to the main motorway network) national use."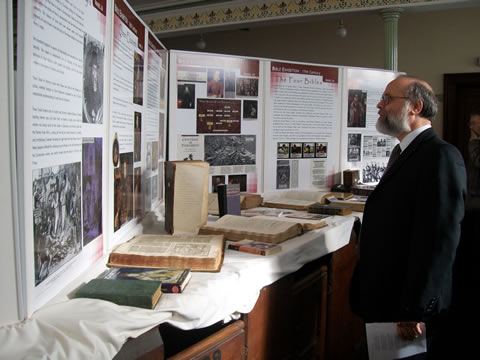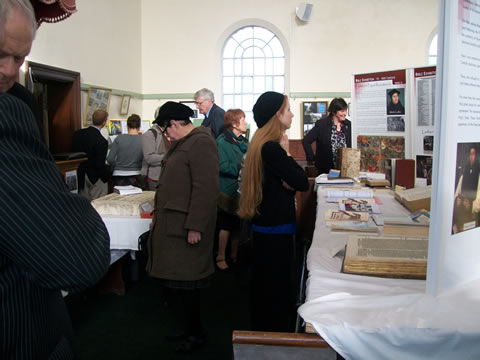 Mr Burrows continues: "The vision of the Christian Heritage Trust is to encourage as many schools and colleges, church and other groups to visit the centre and learn something of the massive and vital role Christianity has played, and must continue to play in the life of our nation. We were reminded in the Opening Service by the preacher Dr. Brian Green of the account of Naboth in I Kings who refused to sell his inheritance. We in Great Britain have a godly heritage which we believe all Christians should be fully aware of and not neglect to make known. Please pray for the success of this venture, and if possible arrange a visit for your church or Sunday school, or consider making a small contribution to the ongoing running costs. We at the Christian Heritage Centre would once again like to thank Mr. Eric Cousins and the Grace Baptist Trust Corporation for the very considerable part they have played in enabling this venture to come to fruition."