WALDRINGFIELD BAPTIST CHURCH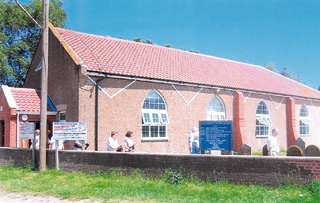 The original chapel was built in 1821 for £110 and enlarged, firstly in 1842 for £202 and then again in 2005 for £250,000. After all the ups and downs over the years, they had just 18 members in 1987 who, in faith, called a minister not knowing how they would be able to pay him.
Waldringfield Baptist Church writes:
"Seventeen years later and with the same pastor, 100 members and a congregation of about 130 we could not easily get into the building. So, in late 2004 we moved out into the village hall for three months and enlarged the building to hold some 250 people, and added a new vestry, creche, kitchen and toilets, largely from our own resources but with considerable and appreciated help from the Corporation. This has greatly assisted outreach to neighbouring villages and the internal work of the church whose members are very grateful to all who have helped, and the Corporation for its ability and readiness to assist in time of need."
2008 update: The church has continued to grow and has appointed a part-time Assistant Pastor.