2013 - Annual Review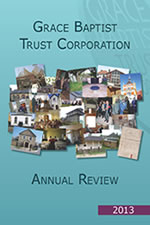 In looking back over 2012, we acknowledge God's faithfulness and thank Him for His goodness through another year as we worked to support and encourage the churches.
The very sudden homecall of our brother David Bucknall on 27th November came as a great shock to us all. David had served on the Council since 1998 and had held the offices of both Chairman and Deputy-Chairman. He was highly dependable, willing to do whatever he was asked to do. We shall miss his wise and thoughtful counsel and pastoral heart, and we extend our sympathy to Diane and the family.
| | |
| --- | --- |
| | |
| David Bucknall | Rob Powell |
On a happier note, we were very pleased to welcome Rob Powell to the Council during the year. Rob is an elder of Jubilee Baptist Church in Occold, Suffolk. We are sure that his background in insurance and his knowledge of the churches, particularly in Suffolk, will bring much needed strength to the Council.
The Corporation was founded to support Strict & Particular Baptist Churches with the administrative, financial, legal and practical aspects of church life. The nature of our work sometimes makes it difficult for churches to identify with our ministry so we truly appreciate the financial contributions of those that do support us.
During 2012 we continued our support of the churches through grants and loans. In some instances this resulted in simple chapel maintenance; in others, extensive renovations. We were also pleased to be able to help particular individuals by means of specified grants. Our range of Fact Sheets, covering all facets of church life, continues to grow (see our Resources page). Church officers regularly contact the office with a wide range of queries and we are pleased to assist where possible.
The Corporation aims to guide churches as regards their property. This is not always chapels or land. One church has had legal and technical problems because of a boundary wall. In a severe state of disrepair, the wall is a Grade 2 listed structure. Another church are struggling financially although "rich" in property. Alongside the church members, we are looking into a possible site redevelopment to boost income without hindering their work in the local community.

One of our biggest challenges of the past year has been Providence Chapel in Charlwood, Surrey. We accepted Trusteeship of this Grade 2* listed building in 2010. The wooden chapel, originally barracks during the Napoleonic Wars, was moved to its present site in the early 19th century.

The elderly congregation was very small, and when the services finally ceased the Trustees were left with a serious problem. The building was in desperate need of expensive restoration. In addition, it was not possible simply to sell the chapel; a use acceptable to both the planning authorities and English Heritage had to be found. Working alongside local residents and other
interested parties, a new charitable trust has now been formed to take over the chapel for community uses. As well as the restoration of the building, the trust will ensure the continuance of worship services and graveyard upkeep.
At the same time, the Grace Baptist Partnership have been working in the area with another local church to re-establish a Christian witness in the village.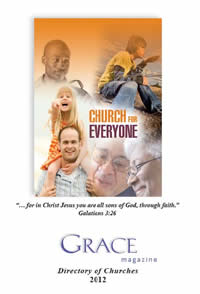 Besides churches, we work closely with a number of charitable organisations with similar objectives; in particular, the various Associations of Grace Baptist Churches. Since 2006, the East Anglia Association has been transferring trusteeship of chapels and manses to us. In addition, our Chief Executive, Eric Cousins, is personally involved with the Particular Baptist Fund.
We also assist the Trustees of Grace Magazine in the yearly production of the "Directory of Churches". It has been interesting over the last few years to see
how many churches have embraced the 21st century, with websites, online sermons and pastors' blogs!
Please pray that we will be given wisdom and guidance as we seek to maintain the various ministries of the Corporation during the coming year.
Some of the Churches we have Helped
Hope Baptist Church, Haslemere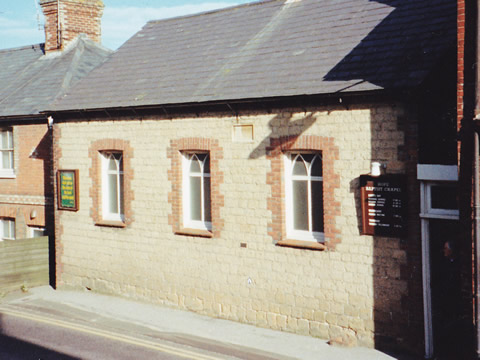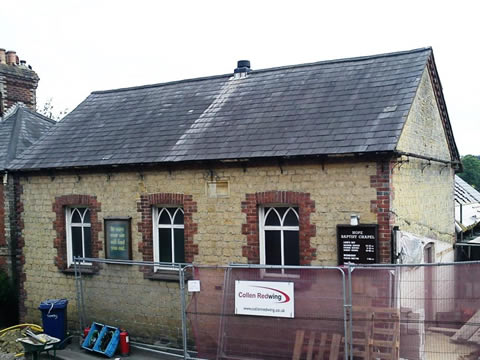 For some years now the church at Haslemere have been working with the Corporation on the best way forward for their chapel. The toilet and kitchen facilities were particularly outdated and inconvenient; the former being situated across a courtyard from the main chapel. A proposed development of the adjacent site spurred the church to pursue an extension project, albeit separate from their neighbour. The project involved an upgrade of the ancillary buildings, and demolishing and rebuilding the vestry, meeting hall, kitchen and toilets. The church now enjoys modern facilities and a new meeting hall, all constructed in the aforementioned courtyard
Work in progress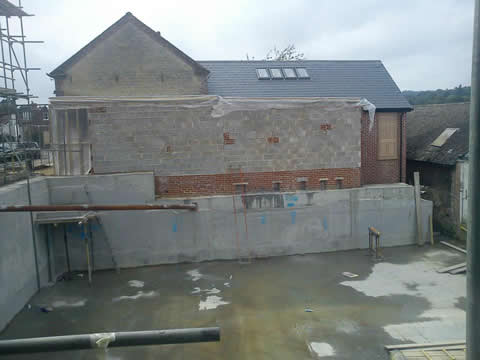 The pastor writes:
"I wanted to let you know we have the keys back ... The back hall, kitchen, toilets and vestry look stunning. The people that have seen it have been close to tears at the transformation - we can comfortably meet in the new hall with all the new facilities we now have. We are extremely thankful to the Lord for his abundant provision and blessing towards us - thank you for all you have done in this project getting us to where we are today. I am quite certain without your advice, guidance and financial support from GBTC we would still be with the old facilities - so thank you and the committee of Grace Baptist Trust Corporation."
New Hall New Kitchen being fitted out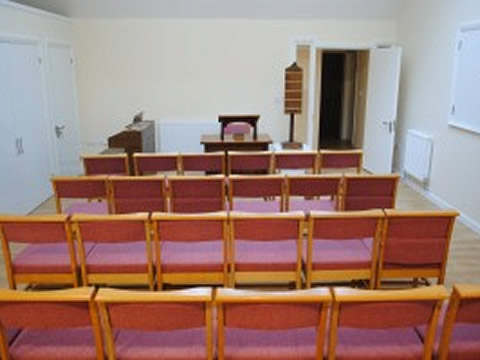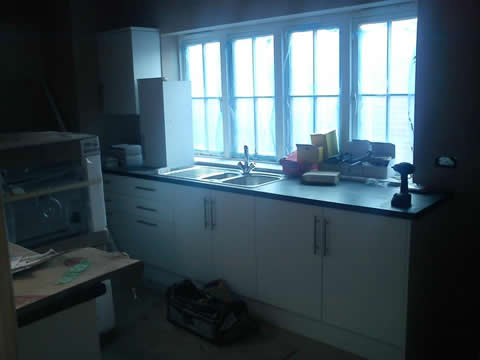 Peel Street Baptist Church, Accrington

The Peel Street chapel design is unusual, having a number of steps and stairs to the main levels. This makes accessibility challenging for the elderly and those with physical difficulties. The church felt that these issues would be best addressed by the installation of a lift accessible from the exterior of the building. However, their initial plans met with some opposition from the local council, and they had to modify their building project several times before final approval. The church are now very pleased with a fully internal lift. In addition, alterations were made to the entrance steps, which decreased the height of the risers. Furthermore there is leeway for an exterior ramp to be added to the side of the new steps at some later date if it is thought necessary.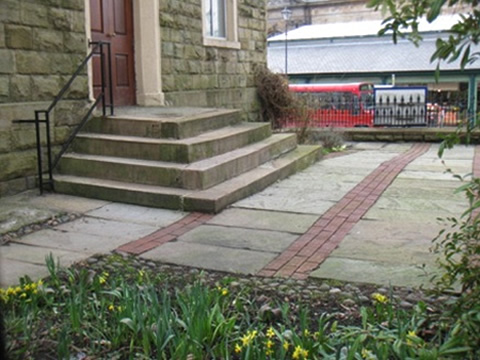 Entrance Before...
A church member writes:

"Thank you so much for enabling me and many others that attend Peel St Baptist church. For many years it has been difficult for many of us to access the church from the front. Now that the building has an upgrade to the front including dropping the step height and adding handrails and non-slip surfacing many of our elderly members find it a great deal easier to access the church.
As for the new lift installation, it is superb. It is clean and safe, suitable for a person and a wheelchair, or for four adults up to 500 kg in weight. It makes such a difference to the blind group, both able bodied and disabled. Please pass on my thanks for making my day in church less difficult due to the kindness of all concerned.In providing the funds for this project you have done good! Thank you!"
Front steps improved by increasing the number and so decreasing the height of the risers.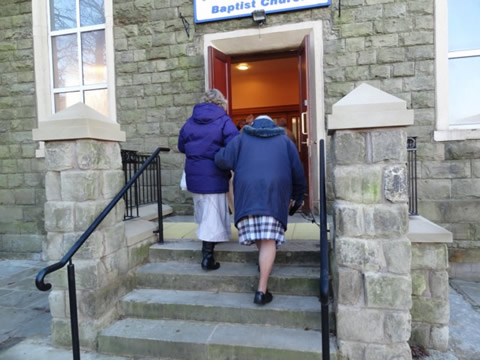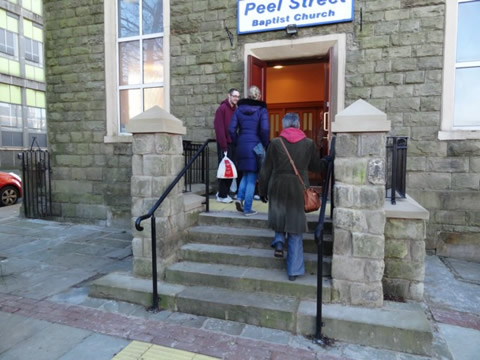 New Lift - Downstairs & Upstairs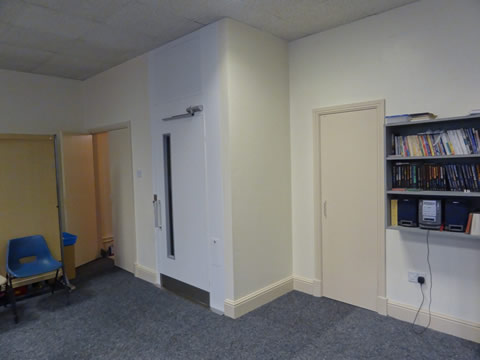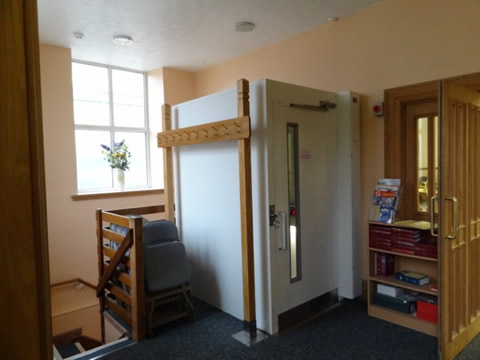 Northend Baptist Church, Erith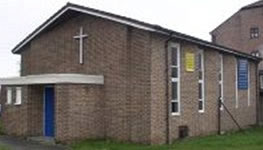 We have been pleased to provide the church at Erith with a grant to assist in replacing their old gas heaters with a modern central heating system, and also create a toilet for the disabled.
The church writes:
"Once again thank you for the essential financial assistance provided by Grace Baptist Trust Corporation."
New heating system and 'disabled' toilet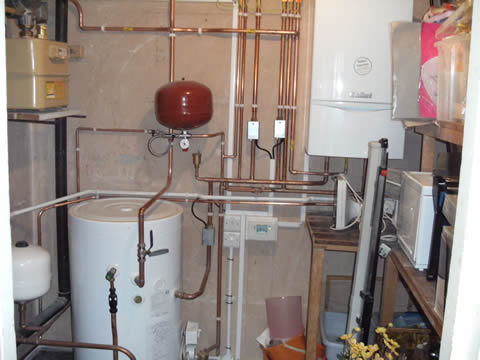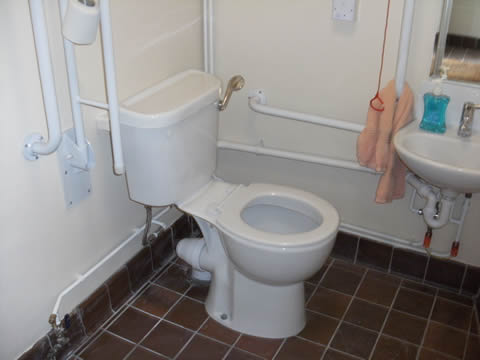 Church Members enjoying the warmth!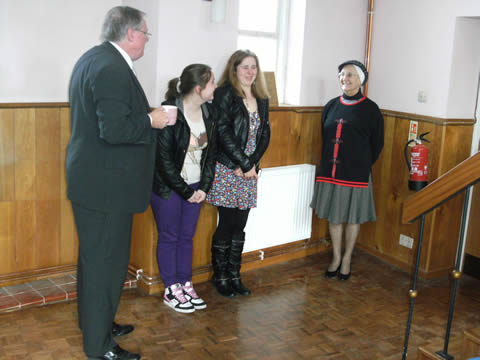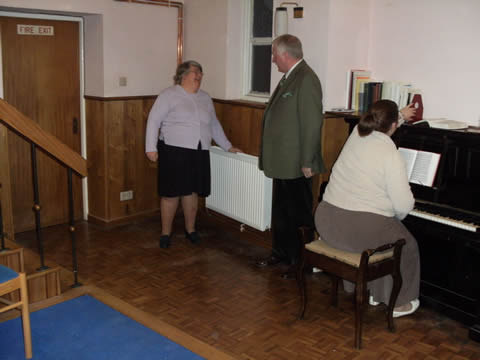 Ways We Can Help You
We are able to help churches and their members in a number of different ways and if you think we can help in any of the following ways please contact us.
Financial Support
We can offer grants and loans to churches for building work or major renovation projects although we are constitutionally obliged to offer financial support only to churches having a Strict and Particular Baptist ethos. We are also able to make grants to members of such churches from the grant-making funds for which we are responsible, particularly the Pastors' Fund, the Ministers' Aid Fund and the Benevolent Fund. In the case of the Pastors' Fund and Ministers' Aid Fund, grants are paid to Strict Baptist pastors, whether currently serving or retired to relieve financial hardship. The Pastors' Fund is used to pay regular allowances whereas the Ministers' Aid Fund is used to make one-off grants to meet sudden cases of need that may arise. The Benevolent Fund is used to pay grants to church members who are in financial need.
The B A Warburton Memorial Fund is slightly different in that grants are made to male members of Strict Baptist Churches who are preparing for the Ministry to assist them with the costs of their training. Although the funds available
are limited, we do encourage applications which will be dealt with in a sensitive manner.
Professional Advice
We can offer advice on all of the administrative matters a church might encounter.
Trusteeship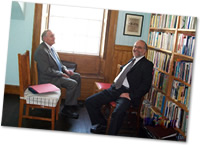 Trusteeship can be a minefield for the uninitiated and we are always willing to offer advice, having particular expertise in this regard. We are also able to serve as trustees of chapels and various trust funds and we have a property
inspection programme for assisting churches of which the Corporation is a trustee. In addition, we are able to administer trusts set up under wills and other instruments.

Tax-efficient Giving
We are able to help churches maximise their resources through our Gift Aid scheme, which is particularly helpful to churches that may not have in-house expertise or to individuals who wish to give anonymously.
Ways You Can Help Us
By giving to our General Fund
We exist to serve the churches; however serving others is a costly business. You can help us by making personal donations to defray these expenses and by encouraging your church to do the same.
By supporting our various grant-making Funds
In the section above we refer to various funds from which we can pay personal grants but they are very small funds. The grants are very much appreciated by the beneficiaries and we include below some extracts from letters we have received. We need your financial assistance if we are to continue offering this kind of help and we would ask you to consider what support you can give.
"I just wanted to say a heartfelt thanks for the further gift towards my Bible college fees." (From a pastor in training).
"We praise the Lord for His goodness and for the most generous gift received from the Pastors' Fund ... Whilst there are set times of year for the sending of grants, both the timing, and the amount given, could not have been more opportune. We send our most humble thanks to the Pastors' Fund Committee members and assure you that your practical help is invaluable, and most sincerely appreciated." (From a serving pastor).
"We greatly appreciate your kind provision over recent times, this has provided us with sufficient funds to cover the costs of moving and setting up our new home..." (From a recently retired pastor).
"Thank you so much for the cheque you forwarded to us. We are truly grateful for the Lord's provision for our needs, especially in these difficult days. (From a retired pastor).
By becoming a personal member
Annual subscriptions are:
Full Membership - 」10.00 per annum
Associate Membership - 」5 per annum
Personal membership is a more committed way of supporting us in our ministry. In addition it enables you to attend our Annual General Meeting and have a say in the way the Corporation is run. Please ask for a membership form.
By encouraging your church to become a subscribing church
Churches that make a gift to the Corporation's General Fund during the year are entitled to send Delegates to our Annual General Meeting and so be closely involved in our ongoing ministry.
By remembering us in your will
Friends who have remembered the work in their wills have been a source of great encouragement and help over the years.
By telling others about our work and encouraging them to support us
Tell your friends who are not familiar with the ministry of the Grace Baptist Trust Corporation about the many services we offer and the help and advice we can give.
By telling us about the needs of churches and individuals
If you know of a church or church member who needs our help, we would love to hear from you. We administer a number of funds that are to be used for the benefit of others in need.