LOWER FORD STREET BAPTIST CHURCH, COVENTRY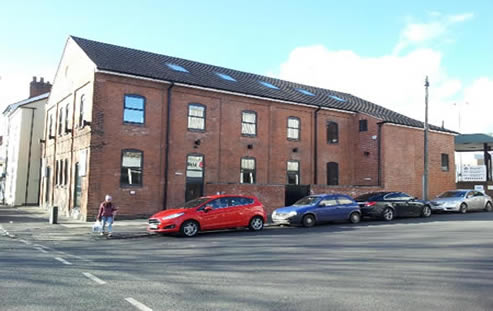 The chapel of Lower Ford Street Baptist Church was built in 1857. The church felt that the building was no longer fit for purpose, and embarked on a major renovation project during 2014.
The church writes: "We were able to increase our floor space by 76% on a very tight site by lowering the ground floor for disabled access, and putting in a first floor. This has allowed church ministries to both function adequately and expand. It has also supported a significant involvement with our local community including a cafe four mornings a week and a Homework Club. The grant from GBTC was used to help us update our heating system. We now have underfloor heating. The absence of radiators greatly facilitates multi-purpose use of the 2 main halls. Remote computer control transforms the ease with which we can control which rooms are heated and when. Recently a deacon was able to respond to an unexpected need for heating when he was on an overseas trip in India " such are the marvels of modern technology! Overall, we are delighted with our refurbished and extended building, and pray that it will be used by God for the good of His Kingdom. We are very thankful to the GBTC for their generous support. It has been a great encouragement to us, and is a wonderful expression of support and care among God's people."
Chapel Exterior

Gutting the Interior

Preparing Ground Floor Foundations

Laying Ground Floor Foundations

New Ground Floor Hall

Baptistry - Ground Floor

Constructing Library - Ground Floor

Lift Shaft

New Stairs

Construction of First Floor

First Floor Hall

Underfloor heating - First Floor

New Roof with Skylights

First Floor Hall from Tea Point End

Tea Point - First Floor

Attic Storage

Using new Ground Floor Hall